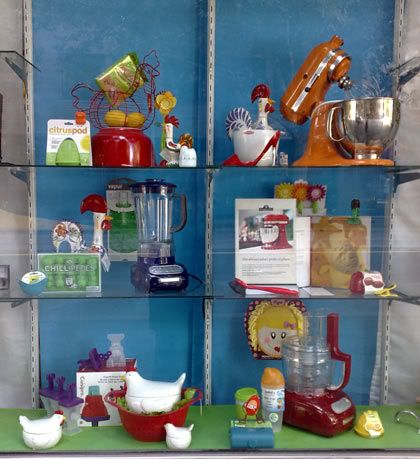 Featuring the three main
Kitchenaid
apppliances accompanied by products in cheerful Summer colours, including a chicken nesting in a lettuce lined colander! 'Why is that Summery?' you might ask. If a lettuce has just been washed in the colander a chook might find that a very comfortable and cool place to sit in Summer. Little quirky touches like this in a display are unique to this Visual Merchandising company, and catch the viewer's attention as well as help them to remember a store. The client sold out of this size of chicken during the month of this display.
The
Tangerine
Kitchenaid stand mixer in the photograph is a substitute for the
Yellow Pepper
model first placed in the display. That item sold within a week of the window's installation. Providing an attractive context for the Yellow Pepper Kitchenaid helped move a product that had been sitting for over a month in a showcase.
Client:
London and American Supply Stores